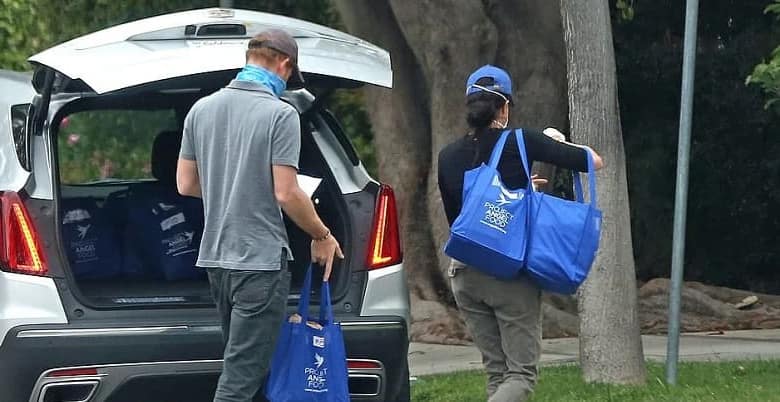 United Kingdom
Correction of mistakes: six differences between Meghan and Harry's second exit and the first
It seems like Meghan Markle is reading my readers ' comments.
This is the thought that arises after viewing the photo from the second exit of the couple to distribute food to those in need — the work done on mistakes is very noticeable.
So, the most important thing is that the photos have become clearer. You can see that they are made from close range, almost at point-blank range.
However, according to some photos, Harry feels uncomfortable when openly posing for photographers. But nevertheless, he did not refuse the photo shoot.
It is obvious that he did not leave the Royal family in order to avoid the intrusion of the press into his life.
Meghan, on the contrary, feels great, again being under the sights of cameras.
And indeed ,the "good" thing will not go unnoticed if you take a good photographer with you.
The next mistake that Meghan corrected — this time for the delivery of products was used a lower class car, more precisely, cheaper.
If last time it was a Porsche, this time it was a Cadillac, worth only $ 35,000.
The third error that was corrected – this time no word about the accompanying security officers, and no compromising SUVs in the frame. All by yourself, just by yourself.
The fourth error that was corrected — the bags with food this time were more impressive in size.
In any case, Meghan took a bag more than last time.
Not only that, the paparazzi were shown the trunk, which contained several more bags, which was to prove to the audience that the products are delivered to several addresses.
Fifth.
Here it is, the main dish-the guiding and guiding hand on the back.
And if anyone has ever doubted that this is Harry, there can be no doubt about it now.
Only it needs guidance and support, even with such a simple action as opening/closing the trunk or turning right.
And the sixth. Basic.
When Meghan and Harry first delivered groceries, they barely spoke, looking into the distance.
Even when they were expecting someone to come out to open the gate, they just stood quietly in front of the fence, not even looking at each other.
This is definitely not typical for Harry and Meghan. The situation needed to be urgently corrected
Therefore, the second way out – holding hands, looking at her husband with loving eyes — is this photo, presumably, should demonstrate to the whole world how much they love each other.
And how happy we are in Los Angeles, and how right we were to leave the Royal family and the UK. Yes, Harry!?
This is probably the most ridiculous thing you could think of. Did anyone see the volunteers holding hands? But now there is no doubt that it is Meghan and Harry.
Now I wonder if there will be a third photo shoot with food distribution.
Because there is still something to fix. For example, you can select a poorer area for distributing food. I'm sure there are people who need help there, too.
And it's time to change Harry's t-shirt.
But one thing is for sure – Meghan Markle is able to use any situation to her advantage.