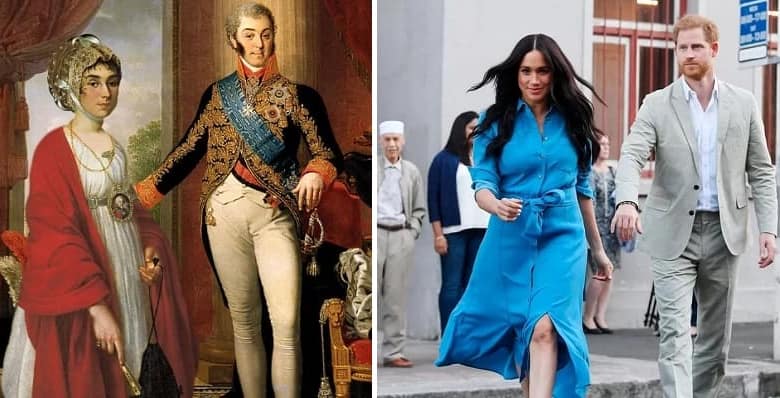 300 years ago there was a really unusual love story: the richest representative of the Russian nobility, count Nikolai Petrovich Sheremetev, as a boy fell in love with his serf – a talented artist Parasha Kovaleva.
The gifted girl was born on July 31 (she is a lion in the Zodiac sign like Markle) in the family of a blacksmith – Ivan Stepanovich, whose surname was assigned depending on the preferences of others. That is, someone called him Kuznetsov or Kovalev, in connection with his craft, and someone called him Gorbunov because of the hump formed as a result of a spinal disease.
Serf Praskovya Kovaleva from the owners received a more resonant name-Zhemchugova.
About the history of their long-term love written a million web pages, so immediately about the result – they got married.
The actress became a Countess, having accepted all the rules of her husband's life, on February 3, 1803, she gave birth to her husband's heir, and 20 days later died of advanced tuberculosis.
The child grew up and continued the count's family, breeding in turn other aristocratic descendants.
And now let's imagine that in Praskovya's place was Meghan Markle, who, unable to withstand the gossip behind her back about the "yard girl", would have taken the count to live in the village. Unto the father. And then I would set a condition for the aristocratic coxcomb in love: either I, or " your in a coffin-I-saw-society".
And then she would set a condition for the aristocrat in love: either me, or your family, which I saw in the coffin.
And now the count is no longer a count, but simply H.- Nikolashka-herds cows, helps in the forge and mows the grass in the meadows… Satisfied, however, Rachel – Parashka, defiles in fashionable bast shoes along the Central village street, proudly catches envious glances and goes into ecstasy when she overhears somewhere – " Look – the Duchess Countess is coming!"
Question: why didn't Meghan Markle marry an ordinary "country FOP" from the same Hollywood?
Answer: Because this is " big love"! … And a little bit of selfishness, narcissism, thirst for money, notoriety and … the desire to see how the Prince degrades, falling to the level of the most beloved.
And everyone who doesn't believe in "big love" is envious and racist!
Meanwhile, in Britain…
Harry's "spiteful" relatives didn't say a word in honor of the "significant" event – the two-year anniversary of his wedding to a once-unknown American actress.