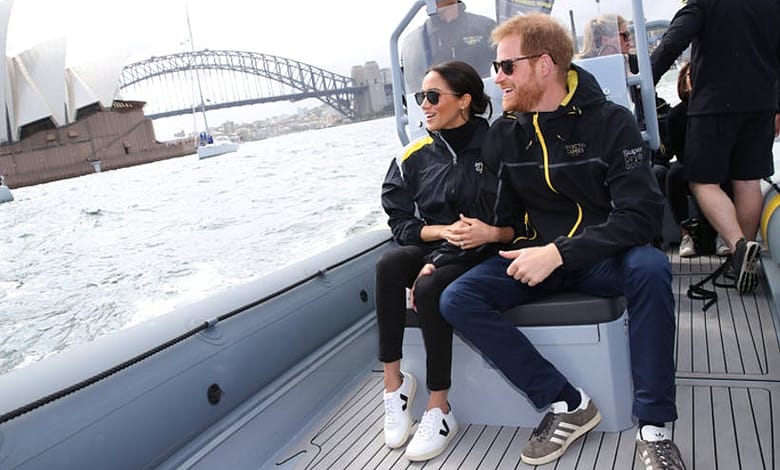 Meghan Markle is a vicious, conniving, hypocritical, manipulative, unlikable witch. In another life, we'd be the best of friends! – writes Milo Yiannopoulos from Spectator.Australia. – But she's just not royal material. And it has nothing to do with the colour of her skin. It's because she's a tarantula, a succubus, the living embodiment of the phrase, 'It cries out in pain as it strikes you'.
As she basically admitted to Oprah, Markle thought that by marrying into the British royal family, she'd become a celebrity on steroids. Marrying Harry, she assumed, would be a passport to a life of unimaginable privilege in which she could bask in adoration, never more than 24 hours from the next custom Givenchy outfit.
But it didn't pan out, because the Duchess of Sussex forgot the flip-side of all that pomp and circumstance: You only get to enjoy it as part of a lifetime of public service, dedicated to the little people.
Markle must have been horrified at her first public engagement. After all, the sort of people who show up for royal events are exactly the gauche, unsophisticated working-class right-wingers whom Markle abhors, associating them with Trump voters — and with her own trailer-park origins, an early life the Duchess has tried desperately to forget.
The British royal family is the hardest-working institution in the world, dedicated to the idea of noblesse oblige — or, to put it another way, 'to whom much is given, much is expected'. It must bore the knickers off Her Majesty to snip ribbons outside hospitals and attend endless awful charity events, but she does it without complaint, and has done for decades.
That's why we like her. And that's why we don't like Meghan, whose snooty, nasty and cruel treatment of staff was apparently legendary in Hollywood. She saw no reason to modify her manners —and, let's face it, she probably got even more hoity-toity and unbearable — when she swapped a Beverly Hills mansion for Kensington Palace.
Even Michelle Obama, normally the most racially tribal of political figures, broke ranks this week to wag a finger at Meghan for classlessly crapping on the Windsors, in a statement that pointedly reminded Markle that family comes 'first and foremost'. Like the rest of us, the former First Lady is amazed at how many bridges Markle has burned with both her own family and her adoptive one.
Incidentally, Meghan the professional race-baiter was Kappa Kappa Gamma in college. Unlike the VP, Kamala Harris, she didn't bother joining Alpha Kappa Alpha to cement her black identity.
Is it appropriate to blame Harry for not reining in his wife's excesses? He's the man of the house, after all. The darkest corners of the internet, where I like to hang out, are overflowing with memes and jokes about how hopelessly under the cosh he is.
I dunno. Perhaps it's cruel to expect any woman in public life to exercise agency in 2021. After all, women are such victims, aren't they? If I'm reading contemporary feminism correctly, the poor dears can't take living in reality with the rest of us.
Women desperately need special treatment, lowered standards in the military, tiptoeing around on television so their delicate feelings aren't trampled on, and reassuring lies about 'wage gaps' and 'sexist air-conditioning'.
And I do agree on the whole that women go where men lead, and that half the problem with modern culture is that men have forgotten how to say 'No' to overwrought cat ladies. Women look to their husbands for stability and security — for a guiding and steady hand.
But just as I muster up fury at Harry, I come across a photo montage on the internet showing how Meghan has scrupulously imitated half a dozen of the late Princess Diana's most iconic outfits, and it makes me shudder.
This strikes me as sinister and creepy, channeling Harry's dead mother to hypnotise and bamboozle the poor git into nodding along with her ludicrously transparent and self-serving machinations. Meghan poisons everything she touches, draining the life and joy out of all who cross her path.
Watching the disintegration of young Prince Harry — at one time, the only handsome ginger in the world! — into his prematurely weary present incarnation is heartbreaking. It reminds you of a horror movie where the life is slowly getting sucked out of the lead character.
Another ten years and he'll be a walking cadaver, still vainly parroting social justice platitudes in the hope of a disinterested peck on the cheek from his suspiciously timeless wife — who was once photographed outside Buckingham Palace as a coquettish tourist. Check out the photo online. You can practically hear the cogs whirring!
It was of course in Australia that we got the first glimpse of what was to come, as Meghan basked in praise and attention, gleefully shoving Harry aside to grab centre-stage. That's when her relationship with the royal family began to go south —not because she was popular, but because she clearly didn't know or care what was expected of her as a senior royal.
The scary thing is, enchantress Meghan's only just getting started. Next up she wants to run for President. (LOL!) Poor Harry has no idea what's coming down the slipway. But I do: I fear he's about to join the ranks of the whipped, cuckolded, immiserated and impoverished Night of the Living Dead husbands of real-world Hollywood fruitcakes.
Playing Princess Di dress-up has been the actress's most challenging but well-remunerated role. For years, she lived high on the hog thanks to the generosity of British taxpayers — and the Queen spent thirty-seven million quid on her wedding. But Markle misjudged her popularity horribly, mistaking transient Hollywood fame for the kind of deep, engrained affection you can only earn from decades of dutiful public appearances.
Harry's already lost his dignity, his street cred and his cojones. He can never go back to Britain, so hated is the couple all over the world now. (Good. They deserve it.) He has been the perfect stepping stone for his ruthless, careerist wife.
All that's left is his inheritance. In the words of our greatest living African American poet: 'When she leave yo ass, she gone leave with half.'
Milo Yiannopoulos is a New York Times-bestselling author, an award-winning investigative reporter, hair icon and founder of the Milo Center, a reparative therapy clinic in Florida.