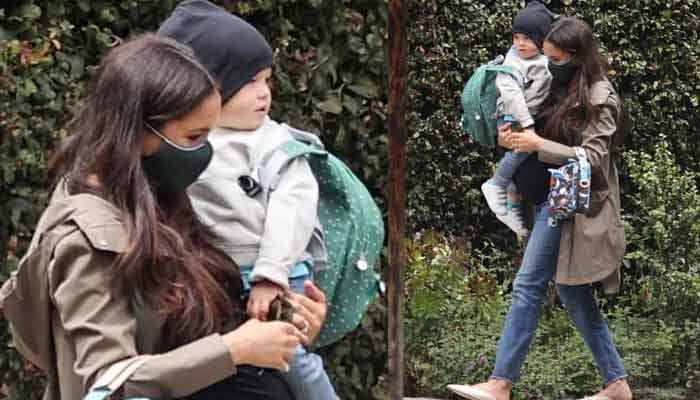 For the first time since Prince Harry returned to California after Prince Philip's funeral, Meghan Markle and baby Archie were seen together in Los Angeles. According to Page Six, which published the photos of mother and son, Harry was back in the States on Tuesday.
During the family walk, Meghan wore an olive-green military jacket, blue jeans, and a black T-shirt with white mules. Her growing stomach was on full display as she carried Archie, who was wearing a beanie, grey sweatshirt, Velcro sneakers, and a polka-dot backpack. As if the 1-year-old wasn't cute enough, Meghan carried a galaxy-print lunchbox, complete with planets, rocket ships, and astronauts just to add another layer of adorable to the whole moment.
How sad that paparazzi pictures of #Meghan and Archie should appear in the U.S. on the same day as the official photograph to mark Prince Louis's birthday is released by the Duke and Duchess of Cambridge #royal

— Richard Eden (@richardaeden) April 23, 2021
What's Meghan's game? Wasn't them wanting Archie to be a "private" citizen one of the reasons they wanted privacy? Why is she showing us his face? A lot of celebrities who says they want their kids to remain private have succeeded so why not her?
If something like this had happened once or twice, I'd believe that it was just a coincidence. But this is becoming a very obvious pattern – and like Richard Eden said, it's sad.