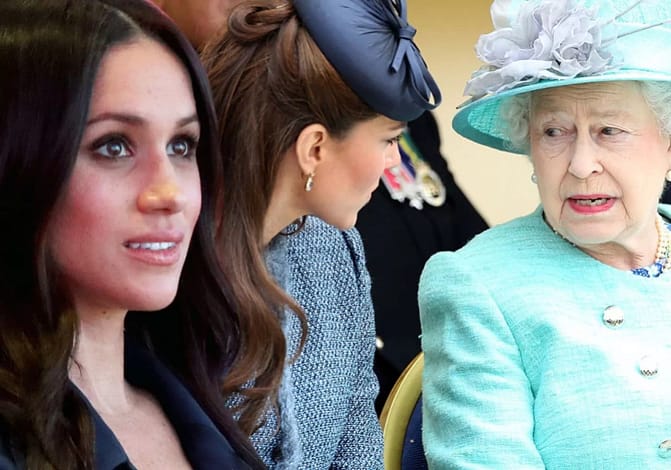 The news that Meghan Markle and Prince Harry are leaving the Royal family and moving to Canada has shocked the world, and now it looks like the Royal family will get all the dirt that Meghan Markle and her PR team can come up with.
Today, In Touch magazine, citing a "well-known" source, published an article that there were serious disagreements between Meghan and the Duchess of Cambridge, and now a flashy headline on the first page of the publication outrageously States that Kate "turned Meghan's life into hell".
"Meghan is fed up with the lies at the Palace and the way she was treated – especially Kate," an alleged source told In Touch sensationally. 'She made Megan's life a living hell by treating her like an outcast and looking at her in silence as the press criticised her daughter-in-law at every turn. Kate never accepted her into the family."
I wonder why Kate should have accepted her into her family. And why should she love Megan, who was spreading ridiculous rumors about her husband's infidelities with her friend?
According to the same source, Kate did not even want to hold Archie and did not allow her children to communicate with their cousin.
I never understood such claims! As, for example, Prince George and Princess Charlotte had to communicate with a child who was not even six months old, that is, he did not even know how to sit. Or Prince Louis, who, of course, is closer in age, but how could he communicate with Archie? Poking around in the eye? Well, really?! How can an adequate person make such claims?
In addition, on the contrary, we have repeatedly read in the media that Megan's super-mom does not let go of her Archie and did not even let her husband's nephews babysit him, which caused Charlotte to cry – this is closer to the truth! But "truth" and "Megan" are incompatible concepts! Her task now is to pour as much mud as possible on members of the Royal family.
I just don't understand what the purpose of such actions is. Adequate people critically evaluate the information and understand that Kate could not push Meghan around when she lived in Kensington Palace, if only for the simple reason that they did not live in neighboring rooms and did not jostle in the same kitchen, but lived in completely different, remote from each other for hundreds of meters of detached buildings. They didn't even see each other every day…
And in General, it is not very clear why a mother of three children had to leave these children and run to her already elderly and past fire, water and copper pipes daughter-in-law to create comfortable conditions for her?
All the more absurd are the claims that Kate calmly watched "when the press was criticizing her daughter-in-law at every turn." What was Kate supposed to do? Was she the head of all the media and could she forbid Newspapers to criticize Megan? I'm sorry, but Meghan's criticism is nothing compared to what Kate herself had to endure from the press, who had been trampled into the mud for more than a decade.
And, to be honest, over the past two years, I haven't noticed any particular criticism of Megan from the media. On the contrary, the journalists who bought Meghan Markle regularly tried to elevate the image of Meghan at the expense of the same Kate.
Oh, Megan won't die of natural causes…