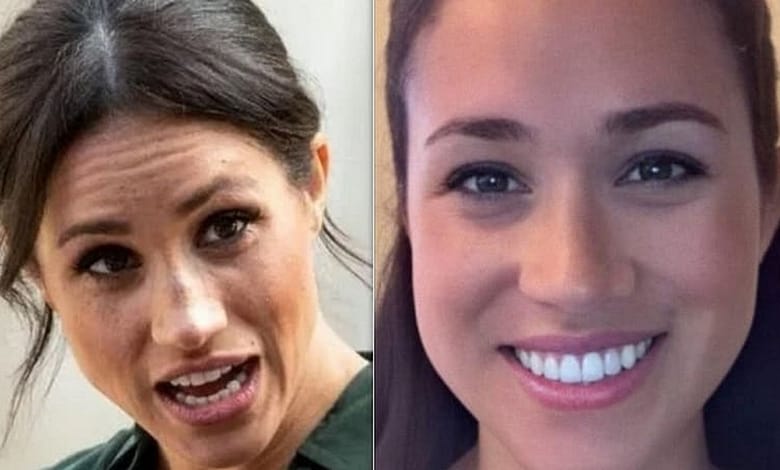 United Kingdom
Meghan Markle on video: plastic surgery or video filters?
Social media continues to discuss Meghan Markle's appearance in a video published by SmartWorks on April 29, the wedding anniversary of the Duke and Duchess of Cambridge. The image of Megan there is very different from what we used to see before.
Even before, her face had changed inexplicably from event to event. But then this could be explained by small cosmetic procedures, such as Botox injections and contouring fillers, as well as makeup tricks.
What we see in the last video is significantly different from everything we have seen before, and no cosmetic procedures can explain this.
Los Angeles may have the best plastic surgeons, but this dramatic change can only be achieved with a full-face transplant. Megan here looks like her own daughter might look.
Fans of Megan admired: "Oh, what a natural beauty Megan has in this video!". Under the video, comments that are even funny to read:
"Her inner beauty shining through" "Her beautiful authentic self, away from the toxic royals&brits" -"Youthful & happy in Los Angeles" "Ageless beauty"
It's so funny, but so delusional!
An almost forty-year-old woman, no matter how well-groomed she may be, cannot look 15-16 years old. Or is it "the Mysterious story of Benjamin Button" with Meghan Markle in the title role?
Even 20-25 year old women have facial wrinkles when smiling, and this is normal. And Megan, despite her many facial manipulations, has them, too. But then why does this video make her look like a teenager?
And where were her many freckles that she loved so much? After all, as her father, Thomas Markle, had told her, " a girl without freckles is like a night without stars."
Her birthmarks were also gone — on her cheek, over her lip, and on her neck. What's it?
Of course, there are absolutely different opinions expressed in social networks: from new cosmetic operations and anti-aging procedures to the fact that the video is a double of Megan. Personally, I agree with those who believe that the box opens much easier – Megan applied a "beauty filter" in Zoom, which removed all the wrinkles, moles and freckles from her face, and… the "baby face" filter.
But why? I can still understand when a 13-14-year-old girl does it, but why would a woman do it at the end of her fourth decade? We're lucky she doesn't have a shiny butterfly or dog ears.
And after all there was in her life and such… Meghan Markle's now-closed Instagram had a video of her experimenting with filters.
But it's one thing to mess with filters in your personal account, and quite another to do it while you're working. And Megan in the video under discussion still acts as a patron of SmartWorks.
. @meghanmarkle and @sarahgrafferty in Meghan's snapchat story! Too cute? pic.twitter.com/zmZQLWmZqS

— Meghan Markle Daily (@meghanmdaily) July 14, 2016
Can you imagine the Queen putting filters on her face during the Christmas address and acting like a young girl, even though everyone knows she's over 90?
In the search for perfection, Meghan Markle has missed out on what is really important — first of all, it is important to be beautiful inside. She has a problem with that…