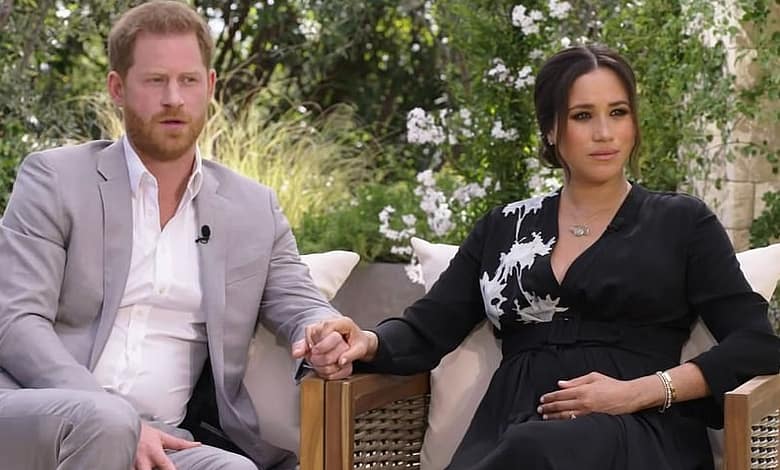 United Kingdom
Meghan Markle, Prince Harry's Oprah sit-down called 'nonsense' by royal expert: 'It suits a narrative'
Royal biographer Robert Jobson said Queen Elizabeth II 'and the royal family are not the Corleone family of Windsor'
Meghan Markle and Prince Harry's highly anticipated sit-down with Oprah Winfrey is already being slammed by one royal expert.
On Sunday, CBS released the first two promos for the tell-all where the media mogul is heard asking the Duchess of Sussex: "were you silent or were you silenced?"
Royal biographer Robert Jobson said the trailer was filled with "over the top, melodramatic nonsense."
"The queen and the royal family are not the Corleone family of Windsor," he told U.K.'s DailyMail on Monday. "There are no hitmen or heavies going around silencing people. Meghan, whilst a working royal, was always protected by a team of Scotland Yard officers. Thankfully, she was never in danger physically and Harry knows that."
"Talk of being 'silenced' is just ridiculous," he continued. "It suits a narrative, I suppose, but at what cost to the queen, Prince Philip and the royal family and our reputation as a country?"
In the clips, Harry invoked the memory of his late mother, Princess Diana, who had to find her way alone after she and Prince Charles divorced.
"I'm just really relieved and happy to be sitting here talking to you with my wife by my side because I can't begin to imagine what it must have been like for her going through this process by herself all those years ago," the 36-year-old said, adding, "because it's been unbelievably tough for the two of us. But at least we have each other."
The Princess of Wales was shown hold toddler Harry as he made the comments. His mother died in 1997 of injuries suffered in a car crash at age 36.
In one of the clips, which was aired on Sunday during CBS news magazine "60 Minutes," Winfrey, 67, is heard telling Markle, 39, "you said some pretty shocking things here," without any indication of what she was referring to. The former American actress was not heard from in the clips.
The outlet reported "This Morning" host Holly Willoughby announced Winfrey's team had been in contact with ITV for footage of an interview with Markle's half-sister, Samantha Markle.
In a January 2020 broadcast, Samantha said the former "Suits" star and Harry owed her and their father, former Hollywood lighting director Thomas Markle, an apology for "incredibly wrong, untoward, and shocking" behavior after the royal wedding in 2019.
"Oprah Winfrey's team contacted 'This Morning' requesting footage from our interview with Samantha Markle in preparation for the interview with the Duchess of Sussex," said Willoughby. "We don't know whether or not they used that in the interview, but what we do know is nothing was off-limits."
In the clips, the Duke and Duchess of Sussex are seen sitting opposite Winfrey, holding hands during the interview in a lush garden setting.
The couple lives in Montecito, California, where they are neighbors of Winfrey, who also attended their wedding. Markle, who recently announced she is pregnant with the couple's second child, wore an empire-style black dress with embroidery. Harry wore a light gray suit and white dress shirt, minus a tie.