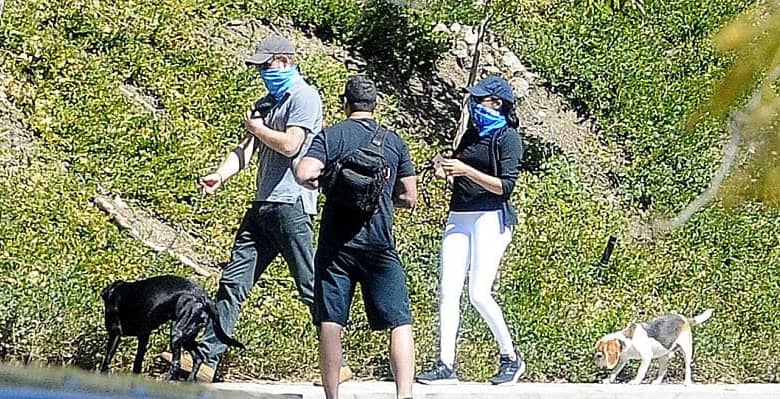 Well, apparently, the Sussex Family really ran out of money, and they started actively posing for the paparazzi. People who allegedly suffered in the UK from the media attention to them (although this attention was only shown in the coverage of official events) in recent days, as if specially arrange questionable video sessions and photo sessions.
First, Harry spoke via video link with families with sick children, then Meghan decided to get in touch with women from her favorite kitchen.
All this, of course, immediately got into the press. Moreover, all these conversations clearly had no public benefit. Apparently, the only purpose of the Sussex Was to appear in the press.
Yesterday, before we could discuss screenshots from the video of the former Royal couple delivering food for the seriously ill, they once again" made everyone happy " with their photos of walking with dogs.
As is usually the case with Meghan Markle, one or two pictures she could not limit. The photographer was allowed to film the entire walk — from start to finish — despite the fact that the Sussex had two security guards present, who clearly did not seek to perform their duties and protect the paparazzi from "unwanted intrusion" into the privacy of Harry and Meghan.
This either means that dad's money to protect the Prince and his wife is being wasted, or the invasion was still desirable, and maybe paid for.
In General, Meghan Markle's acting heart couldn't stand oblivion. Now it comes off in full, exposing itself to the lens from all angles.
So, if someone was waiting for an early divorce-do not hope! She still needs Harry! As long as he is interesting to the American public (unlike her), she will drag him around Los Angeles like a trained monkey for the entertainment of the public. Without it, she will be forgotten in a couple of weeks.
Harry's career is unenviable-a pocket Prince on the sidelines of an elderly actress-a loser.