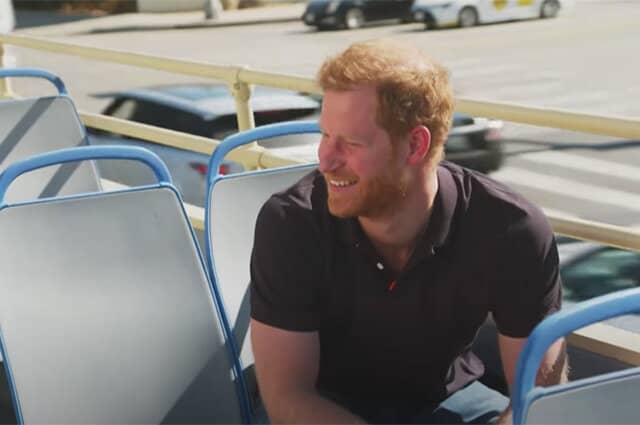 With news that The Queen has been face-timing Archie, you're naturally wondering: What do a 21-month-old and a 94-year-old talk about? Perhaps waffles. While drinking tea on top of a double-decker bus in Los Angeles, Prince Harry leaked to James Corden that Queen Elizabeth sent her grandson a waffle iron for Christmas. The present was an instant hit. "Archie wakes up in the morning and goes 'waffle?'" Harry told the Late Late Show host, – writes Hannah Klaeson of The List.
You read that correctly. Archie is already talking. And singing, according to Harry. Meghan and Harry encourage their son's language skills by reading him books before bed. And in part, you can thank Oprah for that. Remember when Oprah sent Archie a starter library complete with a hand-carved bookcase? "Honey, I have a standard gift that I do for people that I really care about," Oprah told Access Hollywood. "I don't know the baby's name or the baby's gender, but this baby will have enough books to last a lifetime!" (via The Oprah Magazine).
Archie's first word was three syllables
Archie is "already putting three-four words together," as per what Prince Harry told James Corden. "He is hysterical, he's got the most amazing personality," the prince gushed. Of course, Harry is biased, but … we're inclined to believe him. Principally, because of Archie's first word. According to The Atlantic, (and at least in American English) a baby's most common first words are: mommy, daddy, ball, bye, hi, no, dog, baby, woof woof, and banana. Archie's was not. Instead of calling for his parents, the first word that came out of baby Archie's mouth was "crocodile." That — as Corden points out — is most certainly "a big word."
This brings us back to our first question. When they're not talking about waffles, perhaps Queen Elizabeth and Archie spend time discussing amphibious animals? Harry confirmed to Corden that both his grandparents know how to use Zoom. "We've zoomed a few times," the California-based royal said, "they've seen Archie running around."
Do you believe that? I'm not.