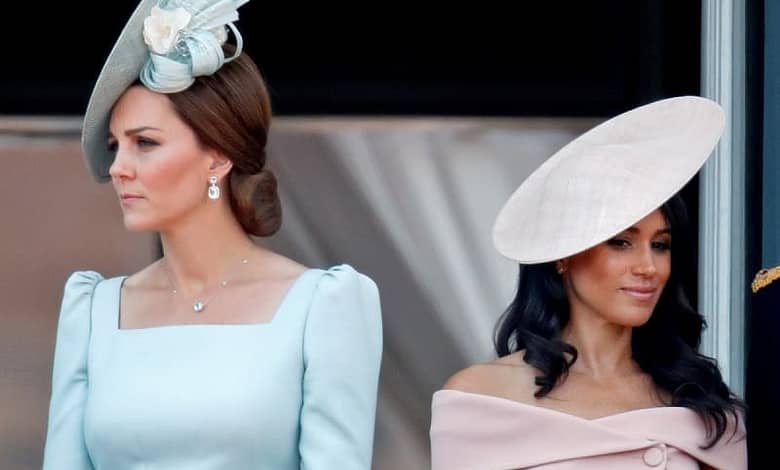 United Kingdom
Report: Kate Middleton Is 'Furious' With Meghan Markle, Feels 'Exhausted And Trapped' After Assuming Her Royal Duties
Kate Middleton has reportedly been struggling since Meghan Markle and Prince Harry stepped down as senior members of the British royal family
A close friend says that Kate Middleton is struggling since Meghan Markle and Prince Harry decided to step down as senior members of the British royal family. According to the friend, Kate's workload has become overwhelming after taking on the couple's shirked responsibilities.
Catherine the Great Exhausted? ?#KateMiddleton#KarenMiddleton pic.twitter.com/qugXEqWJw6

— Catherine the Great Exhausted ™ ??????? (@mu_ri_elle) May 26, 2020
Kate Middleton Is 'Furious' At Meghan And Harry
A close friend of Kate and her husband Williams' told Tatler magazine that she is "furious" over the larger workload her family now has after Meghan and Harry quit as royals and moved to Los Angeles, California.
"William and Catherine really wanted to be hands-on parents and the Sussexes have effectively thrown their three children under a bus," the source said.
This insider went on to blast Meghan and Harry as "selfish" for their decision to step down, saying that it will greatly impact William and Kate's family life moving forward.
"There goes their morning school runs as the responsibilities on them now are enormous," the friend of the family said.
"Kate is furious about the larger workload. Of course she's smiling and dressing appropriately but she doesn't want this. She's working as hard as a top CEO, who has to be wheeled out all the time, without the benefits of boundaries and plenty of holidays."
Kate Middleton looking at her babies ?? pic.twitter.com/yzctgZqInr




— stay safe, wash your hands ♡ (@justduchesskate) May 22, 2020
Kensington Palace has since responded by claiming that these allegations are decidedly "false."
Kate Middleton And Meghan Markle's Fight 
Another friend of Kate's spoke out to reveal how her relationship with Meghan became fractured during a rehearsal for her wedding to Harry in 2018.
"It was a hot day and apparently there was a row over whether the bridesmaids should wear tights or not," the friend said. "Kate, following protocol, felt that they should. Meghan didn't want them to."
This insider added that Kate proceeded to "put Meghan in her place" as she reprimanded her for being rude to staffers at Kensington Palace.
"In the palace, you hear numerous stories of the staff saying so-and-so is a nightmare and behaves badly but you never hear that about Kate," the source said.
A 'Ruthless Survival Streak'
Kate is widely known for her impeccable manners. But another insider recently said she has a "ruthless survival streak" that makes her "well suited" to life as a royal.
This palace source said that she is "impenetrable" and there is "nothing to dislike or like" about her.
Daily Mail reported that the insider said Kate models herself after Queen Elizabeth, and that she has even started to talk like her.
It's unfortunate that there has clearly been so much friction within the royal family in recent years.
Hopefully, the fact that we are in the midst of a global pandemic will have the members of the royal family forcing on making amends with one another.
Life is too short to hold grudges, especially when it comes to family.