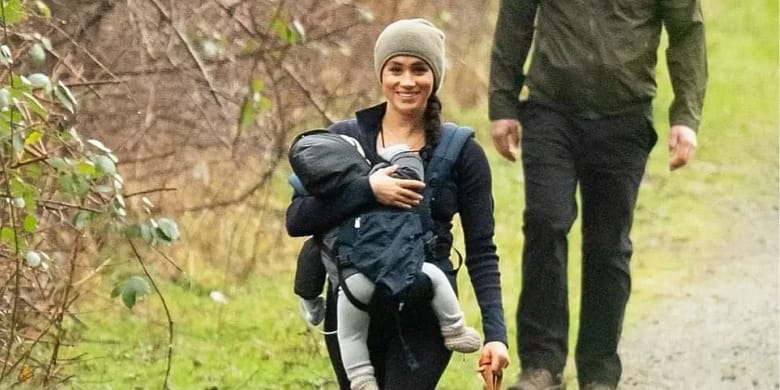 Let's remember how many paparazzi photos have appeared in the British press since Meghan Markle became Prince Harry's wife.
These cases can be counted on your fingers: in March last year, the Sussexs came out of some vegan cafe (if I'm not mistaken), in August they were photographed when boarding a private plane, another time-when disembarking. Then there were creepy-quality photos from the cafe where the Sussexs allegedly spent 2 hours with the child, but the owners denied it. The photos appeared only 2 months after the news was published.
At the same time, Harry and Meghan were crying all over the world that they just don't get a pass, they are constantly photographed and poor Meghan just doesn't have a life in England.
And now they have achieved what they seemed to want – they are no longer members of the Royal family, they can live a private life away from journalists and paparazzi. And what do we see?
In one week, Meghan Markle arranges 3 staged photo sessions with the publication of images in the press.
The first was when Megan decided to visit two charities in Vancouver. Moreover, the purpose of these visits is not clear at all – they drank tea, chatted and gave Megan an expensive decoration – what is charitable about such visits? The goal here is the same-to show everyone that Megan is in Canada and she is not going to stay at home, but will be engaged in charitable activities.
Then Megan arranges the next photo shoot, where she is driving an SUV waiting at the airport for the arrival of her friend-a Pilates instructor. The goal is to show again that the former Duchess is not sad, but lives a full life, receiving guests. And even going to do Pilates.
Well, now she again decided to show everyone what a happy and beautiful mother she is, ordering a photo shoot on a walk with a child and dogs.
Do you doubt that this is a custom photo shoot? I have no doubts about this. Meghan Markle smiles directly at the camera – she knows she's being filmed, she wants it. If she didn't want to, her actions would be different.
Imagine if you go for a walk in the Park with a child and a dog and suddenly notice that someone starts taking pictures of you. Will you smile and pose? And Megan is smiling. So she knows the person who takes it off and lets her do it.
Of course, we all take these pictures for the family album, but no one publishes them in the Newspapers.
Meghan Markle is not such a star that paparazzi sit under the bushes to take pictures of her walking her dogs, and then publish it in the newspaper. Why were they not followed by paparazzi and no photos taken during their two-month vacation?
Not because Markle didn't want To. This was not what the Royal family wanted. Now that she has been "released, " she has started hiring paparazzi again and paying agencies to publish their photos.
This is simply abnormal and clearly indicates her mental disorder. Normal people would not want to publish such pictures of themselves. But not Markle.
And what about the baby again? An adequate mother, going for a walk with a child and dogs, will put the child in a stroller. It is difficult to carry an eight-month-old child like this – it no longer weighs 4-5 kg.
In addition, you can see that the carrying strap has moved off the right shoulder.
It turns out that the left belt holds almost the entire weight of the child, but there is no special tension in the belt, it does not even fit tightly to Megan's shoulder.
It seems that this is due to the fact that Megan forcefully presses the child to her, so as not to drop it. The baby's face was buried in his armpit.
Any mother will say that this way with a child and dogs will not take a long walk. It would be more logical to put the child in a stroller, or, in extreme cases, to transfer the dogs to the guards, who still go without work – usually their duties also include preventing unauthorized filming.
So the shoot was approved by Megan, and the walk lasted only a few minutes to take these photos.
And for 8 months Megan never learned to hold a baby properly…